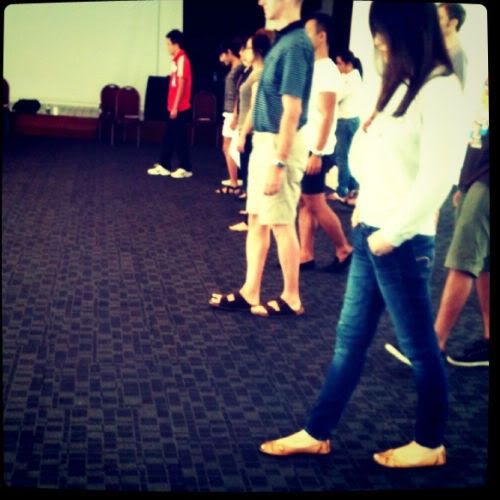 Last weekend was quite interesting. I attended and volunteered for Lee Wen's performance art workshop in the Singapore Arts museum. You have no idea how enriching the experience is!
It was a treasure trove of interesting learnings, which was so impactful. We were truly lucky to be around such an iconic artist – someone who has changed the face and tried to put Singapore in the map of modern art.
He tried to share as much as he could, despite having Parkinsons disease. He spoke about the nuances of performance art – about the lyricism of using the body as a means of expression, about the difference of performance art and theatre, about why Americans tend to be quite loud during performances (due to the nature of their understanding of an audience, vs that of spectatorship).
He recalled stories of living in an artist village back in the 80's, being heavily influenced by Surrealists and the Dada movement – trying to carve out meaning, expressing himself through various changes in society.
Several times through the talk, he referred to other artists from the world over: From Jackson Pollock to that Belgian performance artist who refused to be found inside the museum. He spoke about transformation of the message as expressed through different media (ie photographs).
After the talk, he got the whole group doing some performance exercises to flex their creative muscles. He asked the group to walk carefully, like as though you're treading ground for the very first time. I found this fascinating – because I really rarely put much thought into walking. We always take these things for granted.
The group was also split into two, then one side went through a mad rush to meet the other – inches away, face to face. They also went outdoors, expressed themselves with the use of a prop – a box. They climbed in, danced with, carried up, the whole box around the doorway. Quite fun!
Incidentally, I also met another Filipino volunteer who shared the same family name as myself. Quite funny to think about it – What are the odds!! Maybe a long lost cousin of sorts. Maybe a stroke of odd luck.
In other news, I'm also profoundly fascinated by the book entitled "The Bell Jar" by Sylvia Plath. She's an interesting character – known for her poetry and her intense suicide; however, the one and only novel recovered after her death proves that she's so much more than what you see in the surface. We'll see how it goes – Right now it's only unfolding to a rich tapestry of 1960's/1970's New York city environment.